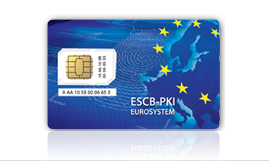 About ESCB-PKI
The increasing number of internal and external users to ESCB services requires advanced security services, such as strong authentication (i.e. two-factor authentication), digital signature and encryption.
In this context it is understood that a new Public Key Infrastructure (PKI) capable of issuing all certificate types required for the ESCB should be implemented to address these requirements. This is known as the ESCB-PKI.
The ESCB-PKI complements the services provided by other Certification Authorities accepted by the ESCB.
The main functionalities of the ESCB-PKI services can be summarised as follows:
Verify the identity of a subject previous to the issuance of a certificate
Create and sign certificates
Process requests and reports related to the revocation status in order to determine the necessary actions to be taken
Provide certificate revocation status to relying parties
Recover private keys associated with encryption key usage certificates (only for internal users)
Manage and distribute cryptographic tokens (e.g. smart cards)
© European System of Central Banks. All rights reserved